Exhibitions
PHILADELPHIA
Stop Slavery Now!
A Conversation About Human TraffickingMarch 2012
F&N Gallery
City Paper 4/5/12
---
US AND INTERNATIONAL VENUES
Half the Sky: Intersections in Social Practice Art
LuXun Academy
Shenyang, China
April 2014
WCA members Eva Preston and Joanna Fulginiti exhibited a multi-media photograph on behalf of The Ragdoll Project titled "Ties that Bind" in the April 2014 juried exhibition
Half the Sky
at the LuXun Academy of Fine Arts in Shenyang, China. The exhibition was part of a cultural exchange between artists and essayists arranged by the International Caucus of the Women's Caucus for Art and the
LuXun Academy of Fine Arts
.
Art work by US-based artists was juried by Alma Ruiz, Senior Curator at the Museum of Contemporary Art in Los Angeles and work by Chinese women artists was curated by LuXun Gallery Director Wang Yi Gang and artist Zhao Yin Ou.
Half the Sky: Intersections in Social Practice Art
was an unprecedented opportunity for women artists and essayists in the US to exhibit and share their work and perspectives with women artists in China. The exhibition occurred at the Academy from April 15-30, 2014. LuXun Academy is one of the premier art academies in China and is located in the major metropolitan area of northeast China.
See the full artist statement and exhibited art from Half the Sky here.
---
Honoring Women's Rights: Echoing Visual Voices Together
September 2012 - January 2013
National Steinbeck Center
Salinas, CA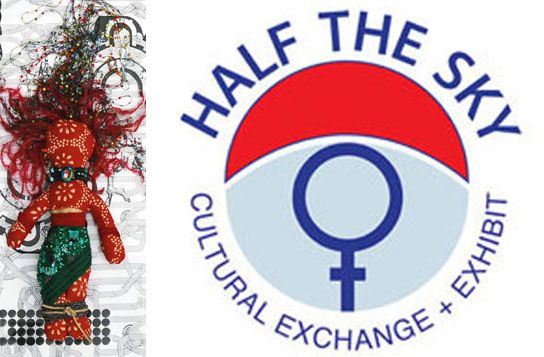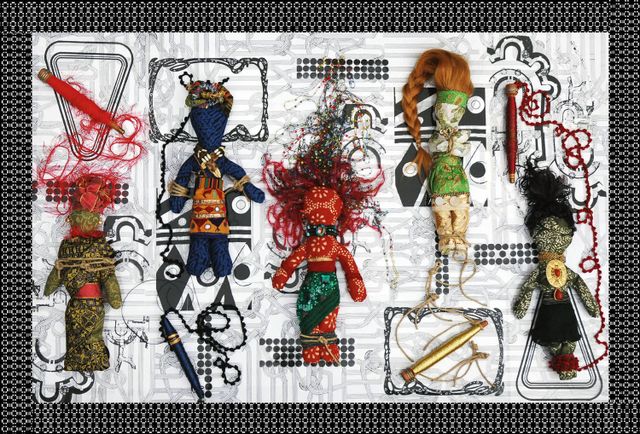 Eva and Joanna created a stunning mixed-media collage featuring hand-made dolls that represent the ties that bind commercially exploited women to their traffickers and the ties that bind all women in an age of interconnectedness. It is a reminder that our thoughts and actions contribute to one another's lives and the responsibility that comes with this.